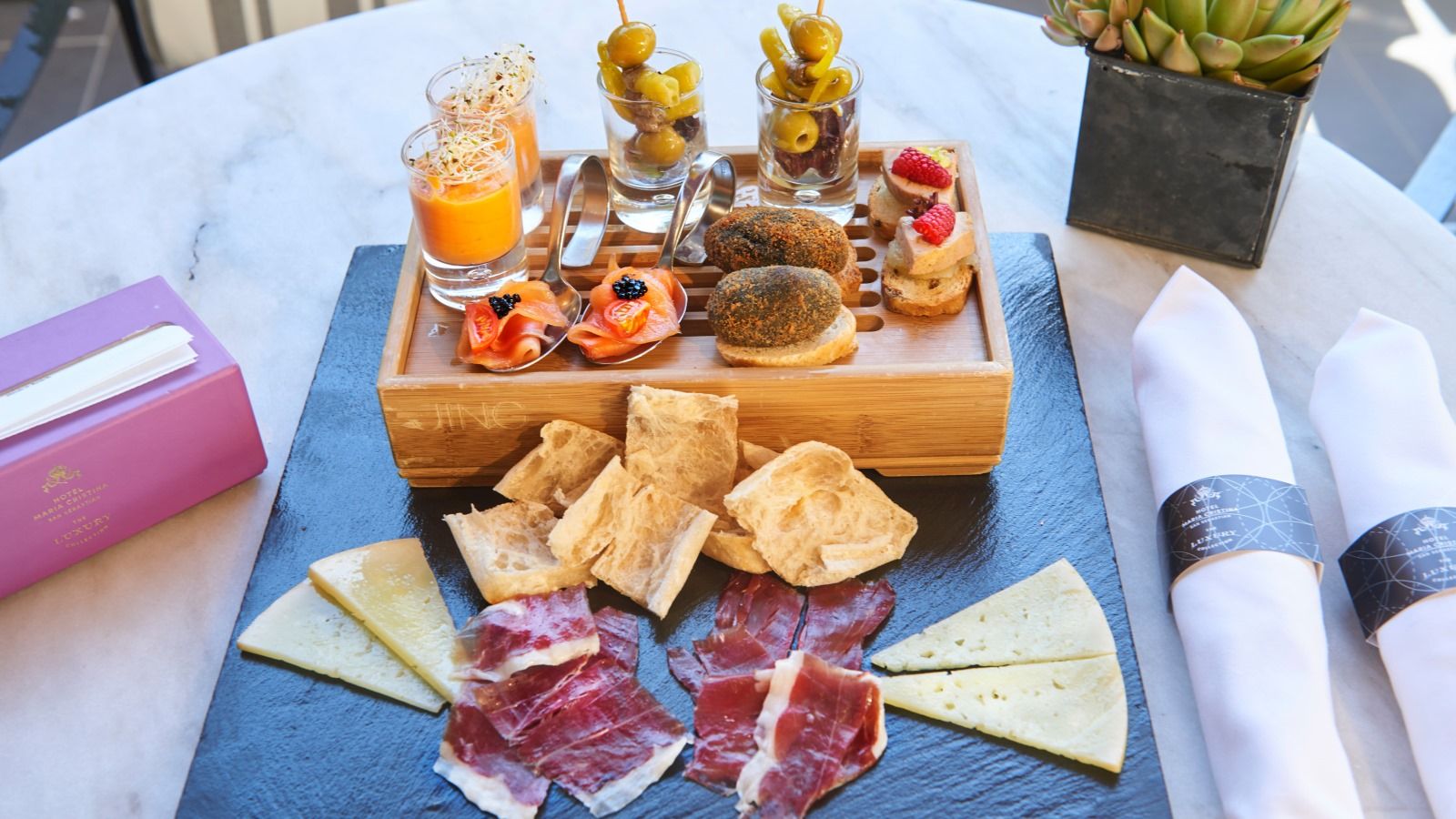 DRY San Sebastián
Hotel Maria Cristina Paseo Republica Argentina, 4 San SebastiánBIES
+34943437600 Hours of Operation
Sunday to Thursday

11:00AM to 00:30AM

Friday, Saturday & holiday eve

11:00AM to 02:00AM
Starters
SNACKING TEMPTATIONS
THE QUEEN'S APPETIZER - € 22
Foie micuit toast, Fillet of salmon, Gilda, Salmorejo, Baby squid croquette, Ham with crystal bread, Idiazábal cheese - semi cured from the Basque country sheep, Roncal cheese from sheep from the Pyrenees.
A TASTE OF PINTXOS - € 20
CANTABRIAN ANXOVY FILETS - € 21
in olive oil
FOIE MIT-CUIT - € 19
on dried fruit chutney with raspberries
IBERIAN HAM WITH CRISTAL BREAD - € 22
IBERIAN COLD CUTS - € 20
Selection of traditional salchichon, chorizo and Iberian ham
CHEESE SELECTION - € 18
With Fresh Fruit, Quince and Celery
SELECTION OF CROQUETTES - € 10
Baby Squid, Iberian Ham and Smoked Cheese
SPANISH OMELETTE - € 9
With Green Chilis
FRIED SQUIDS - € 12
With black alioli
NACHOS WiITH GUACAMOLE - € 16
and Sour Cream
SALADS
MARINATED MELON WITH OLIVE OIL - € 18
And Iberiam ham
TOMATOS WITH ONIONS - € 16
and green chili pepper
THE CAESAR SALAD - € 18
Bouquet of green leaves, marinated grill chicken and croutons, the secret is in the dressing.
CARAMELIZED GOAT CHEESE - € 21
with honey and mustard vinaigrette and pine nuts
We welcome enquiries from customers who wish to know whether any dishes contain particular ingredients. Please inform us of any allergy or special dietary requirements that we should be made aware of, when preparing your menu request.